Identifying and responding safely when working in or around confined spaces
Provided by ISHN
Learning Objectives:
Explain what a confined space is, both permitted and not, and how to identify one on the job.
Discuss how to protect hazardous gases and improve efficiency in wastewater plans.
Describe how working in a remote area in confined spaces impacts emergency rescue operations.
List the dangers and potential injuries associated with confined spaces.
Credits:
Course may qualify for BCSP recertification points.
This course may qualify to be self-reported to ICCP for professional development credits toward CBIP recertification.
Below are a set of links to articles from Industrial Safety & Hygiene News . Click on each link below to read the articles and then complete the quiz to earn your credit and certificate of completion.
A confined space comes in all forms, from wastewater plants to construction sites to processing industries. How to assess a job site for safety and how to create an emergency response plan is essential to both prevention of and reaction to dangers. This course looks at how workers can assess confined spaces in a variety of places and know how to respond if — and when — a problem arises.
A Confined Spaces Analysis
We have all read the articles or posts on the questions regarding confined spaces such as "What is a confined space?" or "What makes your confined space permit required?" You might have even been asked "How do you re-classify a permit-required confined space?" or one of my favorites, "When do I need a rescue team at my confined space?" This article breaks down the answers and talks about what they mean.
Robert "Scott" Goodwin
Learn How to Better Detect Hazardous Gases and Improve Efficiency in Wastewater Plans
For people who work at water and wastewater treatment facilities, gases are very potent hazards that could threaten safety at any moment. Wastewater plants are full of confined spaces, like recirculation pits, clarifier tanks, and wet wells. These spaces alone can be hazardous, and the danger only increases when you consider the gases that can permeate the air at wastewater treatment facilities.
Dave Wagner
Remote Project Sites Require Comprehensive Emergency Response Plan
Construction, mining, oil and gas drilling, and even some scientific and technical experimental ventures often place heavy industry and inherently hazardous work in locations far from conventional emergency response. This article is targeted to the project managers, site superintendents, planners, and health and safety professionals who are charged with overseeing or assisting work that happens in remote locations and often confined spaces.
Chris Enright
Confined Spaces in Construction
A confined space has limited means of entry and exit. When a hazard exists that could affect an employees' ability to perform the work or escape from the excavation, it could meet the definition of a confined space. Thus, each excavation needs to be evaluated using the definition provided for in the standard. This article is from a webinar Q&A with answers from experts on confined spaces.
Assess Job Sites for Unexpected Confined Spaces
A work environment may not seem like a confined space at first glance, but the surprising truth is that confined spaces exist in many forms. They are found in nearly every industry, including food, chemical and petroleum processing, utility and communications installations, construction sites, and many others. Without a doubt, confined spaces expose workers to very real dangers.
Chris Irwin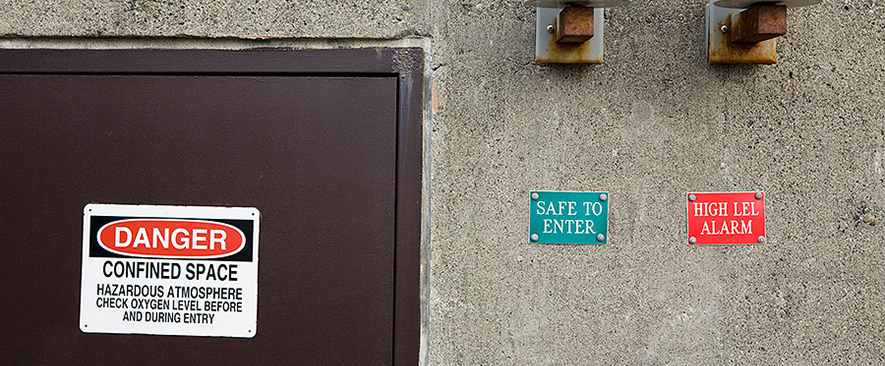 | | |
| --- | --- |
| | Industrial Safety & Hygiene News (ISHN) is for professionals responsible for the safety within high-hazard industry worksites in manufacturing, construction, health, facilities, and service industries. ISHN is your source for safety, health & environmental solutions, including OSHA and EPA regulations. Distributed monthly. |
Notice