Understanding compliance and uncovering the hidden dangers of combustible dust
Provided by ISHN
Learning Objectives:
Discuss how cost-benefit analyses do not always take into consideration the problems that occur after a combustible dust incident.
Explain the concept behind Dust Hazard Analysis.
Describe how organization leaders can identify and mitigate combustible dust situations.
List a few ways that companies can comply with OSHA's General Duty Clause when it comes to combustible dust.
Credits:
Course may qualify for BCSP recertification points.
This course may qualify to be self-reported to ICCP for professional development credits toward CBIP recertification.
Below are a set of links to articles from Industrial Safety & Hygiene News. Click on each link below to read the articles and then complete the quiz to earn your credit and certificate of completion.
Combustible dust can have a huge impact on the safety of a workplace, not just in the damages and injuries that occur during combustion, but the expenses and potential injuries that can follow. This course looks at the fundamentals of combustible dust dangers, including standards and compliance, as well as exploring the best way to mitigate and prevent dust combustion disasters.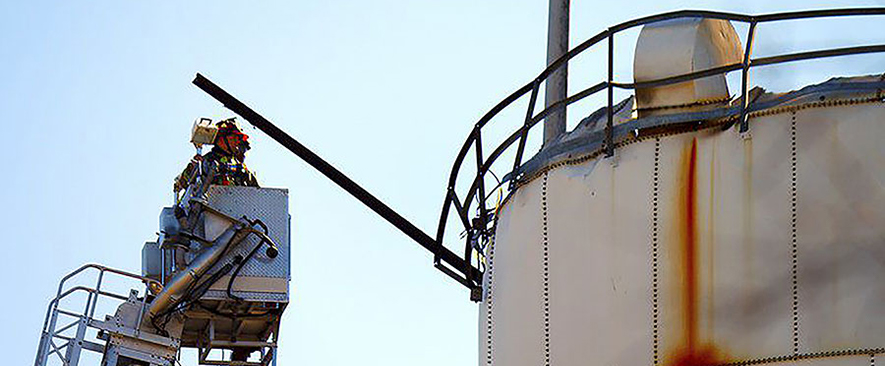 Damages, Injuries, Expenses Following a Combustible Dust Incident
When considering the hazards associated with combustible dust, most organizational leaders are aware of the direct impact that a dust explosion could have on their facility, but a flawed cost-benefit analysis could result in no action being taken. What is often not accounted for in such a cost-benefit analysis is what comes after an incident.
Timothy Heneks
NFPA 652 Standard on Fundamentals of Combustible Dust
NFPA 652 introduces a new term, Dust Hazard Analysis (DHA), which is geared toward factories involved in basic processes that generate combustible dusts collected by simple dust collectors. NFPA 652 is now the starting point for defining a combustible dust and its hazards.
Identify and Mitigate Combustible Dust Dangers
Recognizing dangerous combustible dust situations in manufacturing plants and processing facilities helps you to quickly observe and recognize an unsafe situation in everyday work environments, evaluate whether you and your coworkers are in harm's way, and decide what steps are necessary to make the area safe.
Brian Richardson
Avoid Dust-ups with OSHA over NFPA 652 Compliance
For more than a decade, OSHA has placed an emphasis on combustible dust hazards, which have resulted in numerous deadly incidents over the years. While no OSHA standard directly addresses combustible dust, this has not hindered OSHA enforcement. Instead, OSHA has relied on the General Duty Clause and reference to the National Fire Protection Association (NFPA) standards when citing employers for combustible dust hazards.
Megan E. Baroni, Christopher Y. Eddy, Peter Knight, and Jonathan H. Schaefer
Wet or Dry Collection to Control Combustible Dust
Combustible dust explosions are a risk in virtually any industrial manufacturing facility. Materials that are combustible as a solid will usually present a deflagration and/or explosion hazard when finely divided into fine particulate through various manufacturing processes. Wet scrubbers and dry media dust collectors are two very different technologies used to capture these dusts. EHS managers are faced with a balancing act of finding the best and most cost-efficient equipment to minimize explosion hazards while also keeping emissions below required thresholds to safeguard workers' health.
John Dauber, Mike Walters, and John Davidson
Stay Informed About Combustible Dust Hazards
There is no OSHA standard on combustible dust, but under the Combustible Dust National Emphasis Program, OSHA can issue fines for violations under 18 different standards, including 1910.22, the main umbrella standard. You can also be cited under the General Duty Clause, which can apply to recognized hazards not specifically addressed in OSHA standards.
Benita Mehta
| | |
| --- | --- |
| | Industrial Safety & Hygiene News (ISHN) is for professionals responsible for the safety within high-hazard industry worksites in manufacturing, construction, health, facilities, and service industries. ISHN is your source for safety, health & environmental solutions, including OSHA and EPA regulations. Distributed monthly. |
Originally published in Industrial Safety & Hygiene News
Notice