The latest technology and standards for workplace fall protection
Provided by ISHN
Learning Objectives:
Explain the changes in OSHA's 2020 construction fall protection standard.
Discuss how "connected safety" can be implemented in fall protection programs.
Describe how camera technology can be utilized to help prevent falls in the workplace.
List four ways for an employer to avoid fall protection frustration.
Credits:
Course may qualify for BCSP recertification points.
This course may qualify to be self-reported to ICCP for professional development credits toward CBIP recertification.
Below are a set of links to articles from Industrial Safety & Hygiene News. Click on each link below to read the articles and then complete the quiz to earn your credit and certificate of completion.
Injuries and deaths from falls at construction worksites continue to be some of the highest among reported incidents. This course looks at new OSHA standards and current fall protection wisdom — from prevention and inspection to equipment. It also digs into new technologies such as camera poles, drones and wearables that can help reduce fall incidents and, hopefully, prevent major accidents.
Fall Protection Frustration
It's the same thing year after year after year. For anyone in the fall protection industry it's frustrating and maddening. Injuries and deaths from falls are among the highest among reported accidents in the U.S. workplace. At the same time OSHA continues to report more violations of the general requirements for fall protection than almost any other standard. This article by a fall protection equipment designer offers four steps to avoid fall protection frustration.
Marty Sharp
Falls Still Leading Cause of Death in Construction Industry
According to the Bureau of Labor Statistics, in 2018, there were 320 fatal falls to a lower level out of 1,008 construction fatalities. To prevent these types of fatalities, OSHA's construction fall protection standard at 29 CFR 1926 Subpart M provides numerous options to choose from for employees to help protect their workers.
Derick Plowden
Are There Gaps in Your Fall Protection Program?
Over the last several years, connected safety has changed the way companies keep their workers safe and their operations efficient. While the safety industry is increasingly adopting connected technologies, our industry has traditionally lagged behind others. Many safety professionals may still be unaware of how far reaching and impactful connectivity can be to overall worker safety. One of these areas is fall protection.
Shane McEwen
Utilize Camera Technology to Increase Fall Protection Safety
Falls in the workplace often occur when workers are involved in various maintenance or repair tasks of equipment, structures, or systems that are in elevated locations. The first step of any such operation is to inspect the area that is the focus of the operation. This step can be conducted with the individual safely on the ground by using a remote video inspection system.
Bob Levine
Using Personal Fall Arrest Systems Require Serious Planning Training
Falling to a lower level may be a hazard that employees are exposed to during their shift. However, taking the right precautions can keep employees who work four or more feet above a lower level from suffering injury or even death. OSHA has specific regulations that address these precautions for fall protection in general industry facilities at 29 CFR 1910.28 and 1910.140. This article looks at planning, use, training and other aspects of fall protection systems.
Mark H. Stromme
Assess and Control Fall Risks
Fall protection has been the number one most frequently cited OSHA violation for several years now, which means worksites simply are not understanding the need to keep employees upright. Employers continue to take significant unnecessary "risk" when it comes to workplace slips, trips and falls by not taking the appropriate measures in evaluating their worksites. This article looks at how to eliminate hazards as the first line of defense.
Zach Pucillo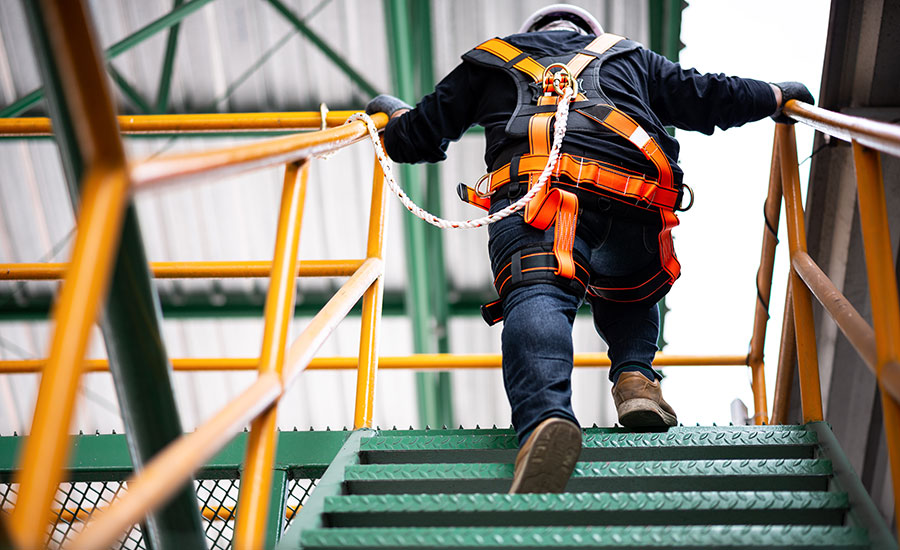 | | |
| --- | --- |
| | Industrial Safety & Hygiene News (ISHN) is for professionals responsible for the safety within high-hazard industry worksites in manufacturing, construction, health, facilities, and service industries. ISHN is your source for safety, health & environmental solutions, including OSHA and EPA regulations. Distributed monthly. |
Originally published in ISHN
Notice