Safety Technology/Wearables
The future of wearable technologies and digital workspaces
Provided by ISHN
Learning Objectives:
Discuss how connected worker technologies are affecting fall protection programs.
Describe how wearable technologies collect data and enable actionable insights.
Explain how digital transformations of industrial plants are creating efficiencies that lead to better worker safety.
List a few benefits and risks of adopting robot, sensor and exosuit technologies for workplace safety.
Credits:
Course may qualify for BCSP recertification points.
This course may qualify to be self-reported to ICCP for professional development credits toward CBIP recertification.
Below are a set of links to articles from Industrial Safety & Hygiene News. Click on each link below to read the articles and then complete the quiz to earn your credit and certificate of completion.
As more industrial companies embrace new safety technologies, they are discovering both the advantages and disadvantages of a developing field. Wearable technologies and digitized workplaces offer potential for companies to ensure better safety than ever before in areas of fall protection, chemical hazards and bacterial and virus spread. This course looks at the latest trends in safety technology and discusses the ways in which the technology is still in development.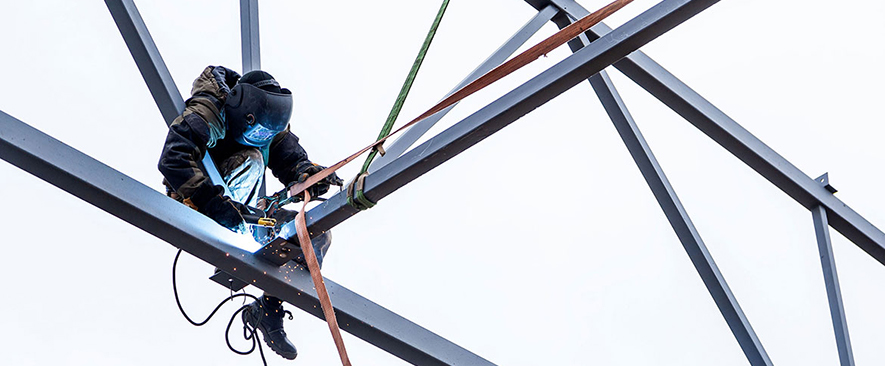 Are There Gaps in Your Fall Protection Program?
While the safety industry is increasingly adopting connected technologies, our industry has traditionally lagged behind others. Many safety professionals may still be unaware of how far reaching and impactful connectivity can be to overall worker safety. One of these areas is fall protection.
Shane McEwen
Innovations in Wearable Tech Boost Essential Worker Safety
Industrial employers trying to keep frontline workers safe and healthy on the job during the pandemic are getting a boost from innovations in connected technology like wearables. These Wi-Fi-enabled devices are collecting new data points and enabling actionable insights that help streamline and target workplace safety measures.
Haytham Elhawary
Wearable Technologies for Improved Safety and Health on Construction Sites
Wearable technologies are an increasingly popular consumer electronic for a variety of applications at home and at work. This article looks at the ways in which the dynamic environments of construction sites create a growing demand for wearable technology.
Scott Earnest PhD PE CSP, John Snawder PhD, DABT, Capt. Alan Echt DrPH, CIH, Elizabeth Garza, and Rick Rinehart ScD
PPE Makes Use of Smart Sensor Technology
Wearable technology is becoming increasingly prevalent in PPE to enhance safety management and increase productivity at the worksite. The sensors that monitor gas, chemical, heat, sound, and UV are integrated into PPE and clothing to improve workplace safety.
Christopher Young
Safety and Industry 4.0: New Technology Drives Upgraded Visibility and More Efficient Safety Measures
Digital transformation of the industrial workforce is driving greater efficiencies and ultimately will lead to a more prescriptive approach to plant and worker safety. It involves enhancing safety from many different aspects, from improving processes and workflows to strengthening the safety culture.
Adrian Fielding
Safety Technology Comes to the Construction Industry
Though it's often characterized as a traditional blue-collar industry, construction has long been at the forefront of technological progress. New technologies have the potential to provoke sweeping change. While these technologies may take time to trickle down to every site, they've already demonstrated their potential to change the industry.
Lee Sadd
| | |
| --- | --- |
| | Industrial Safety & Hygiene News (ISHN) is for professionals responsible for the safety within high-hazard industry worksites in manufacturing, construction, health, facilities, and service industries. ISHN is your source for safety, health & environmental solutions, including OSHA and EPA regulations. Distributed monthly. |
Originally published in Industrial Safety & Hygiene News
Notice